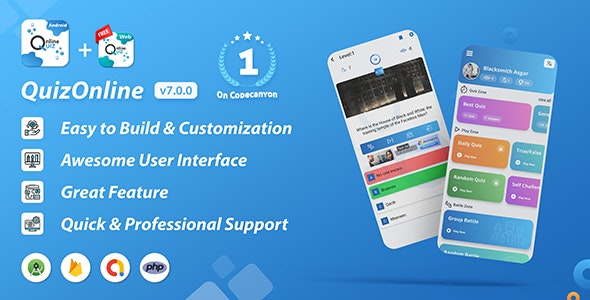 CodeCanyon Quiz Online is fully native application that uses latest features of Android platform to provide the best user experience. The application is optimized to be easy configured. You can create your own application without coding skills.
This app for android allows users to play (answer to questions) and collect rewards points. Users can collect rewards points by inviting their friends to register to this app through referral system (referral code).

Launch your App and make a faster move for Market. Application questions can be managed by any non-technical person. Full source code is provided and also comments are well written to understand better the code.
CodeCanyon Quiz Online Main Features
Category Enable/Disable via Admin Panel
Direct Page for Play Store Privacy Policy
Admin Panel to Manage Quizzes
Support Image Questions
Awesome UI/UX and Great Features
Unlimited Levels Lock/Unlock
Review Answers with Extra Notes
Rewarded Ads to Collect Coins
Free to Support Any Language
Easy to Build and Customize
Notification Based on Topic
Admin Panel with User Accounts and Rights
Refer and Earn Coins
Custom Leaderboard and User Statistics
Advanced Video Documentation Available
Player vs Player Battle Quiz
Fully Support RTL Language
CodeCanyon Quiz Online Version
9 June 21
Product Link
Demo Link
Download CodeCanyon Quiz Online 22412465 Link