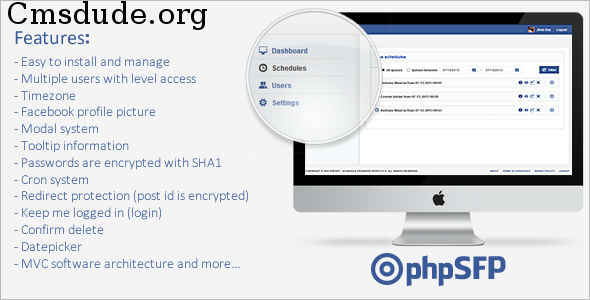 phpSFP(Schedule Facebook Posts) – is a Platform where you can easily manage your scheduling for all your pages & groups in one place. It helps to send messages, ads, events, news and so on.
It will be appreciated the ease of handles: set the post message, choose pages / groups for posting, set the start date and the time interval and your message will be displayed depending on schedule and on this way you will have more likes – clicks – friends.
Your message will be posted according to the schedule, whether or not you are logged into your account. While you relax, your "partner" works for you. All is so easy…!
Some features of the script:
Easy to install and manage
Multiple users with level access
Timezone – each user can set his own timezone
Facebook profile picture
Modal system
Tooltip information
Passwords are encrypted with SHA1
Cron system
Redirect protection (the redirect link id is encrypted)
Keep me logged in (login)
Confirm delete
Datepicker
MVC software architecture
Version: 1.8
Demo link: http://litetech.eu/phpsfp/
Video tutorial:
Download link: