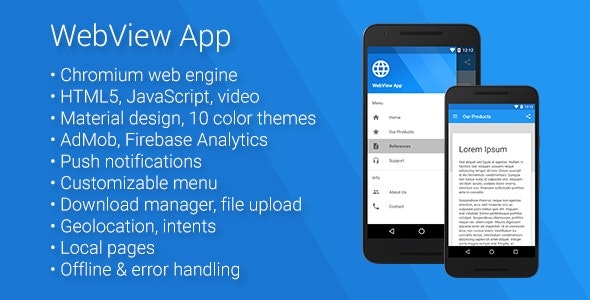 Codecanyon Universal Android WebView App is the best selling, top rated webview application on Envato Market. Its easily customizable and full of great features. With our excellent support, creating app for a website has never been easier!
WebView App is styled in Material design and follows the official design guidelines. You can choose one of 10 color themes. App was developed in Android Studio. It supports mobiles and tablets with Ice Cream Sandwich(Android 4.0.3) and newer.
There is a customizable navigation drawer menu with a hamburget button. 30 menu icons are included. You can also share a text information to social networks. You can refresh the website with pull-to-refresh gesture. Progress bar will be shown if the page is loading. App also supports local pages available in offline mode.
App supports Intents. You can add a special link to your HTML file and you will be able to run appropriate external app to ferform some action – e.g. send an e-mail or call. This app supports a download manager, as well as uploading files. There is a file picker for that. You can also use geolocation for receiving current position of the device. You can monetize your app with AdMob. There is a banner on bottom of the page. You can also show interstitial ad. Ads can be disabled in the configuration.
Analytics gives you key insights that help drive the evolution of your mobile app. It shows you exactly how people are using your product. App supports push notifications. You can send unlimited amount of notifications for free via OneSignal notification service.
App can be used on mobiles, but also on tablets. It is fully responsive and works in portrait and landscape modes. App can handle orientation change correctly. Finally, Codecanyon Universal Android WebView App is well documented. Code is clean, consistent, easily configurable and customizable.

Universal Android WebView App Features
App was developed with Android Studio & Gradle
Navigation drawer menu with optional categories (easily customizable)
Fast and powerful webview engine based on the Chromium
Progress bar when loading the page
Push notifications (OneSignal.com, GCM)
Responsive design (portrait, landscape, handling orientation change)
Multi-language support
Top quality clean code created by experienced senior Android developer
Possibility to build the project without Android Studio / Eclipse (using Gradle & Android SDK)
Universal Android WebView App Version
8 April 21
Product Link
Demo Link
Download Link